ASUS Phoenix
Radeon™ RX 6400
4GB GDDR6 brings ultra high frame rates for today's most popular titles.
Axial-tech fan design features a smaller fan hub that facilitates longer blades and a barrier ring that increases downward air pressure.
Dual ball fan bearings can last up to twice as long as sleeve bearing designs.
A stainless steel bracket is harder and more resistant to corrosion.
A 144-hour validation program puts cards through a series of stringent tests to ensure compatibility with the latest games
Auto-Extreme Technology uses automation to enhance reliability.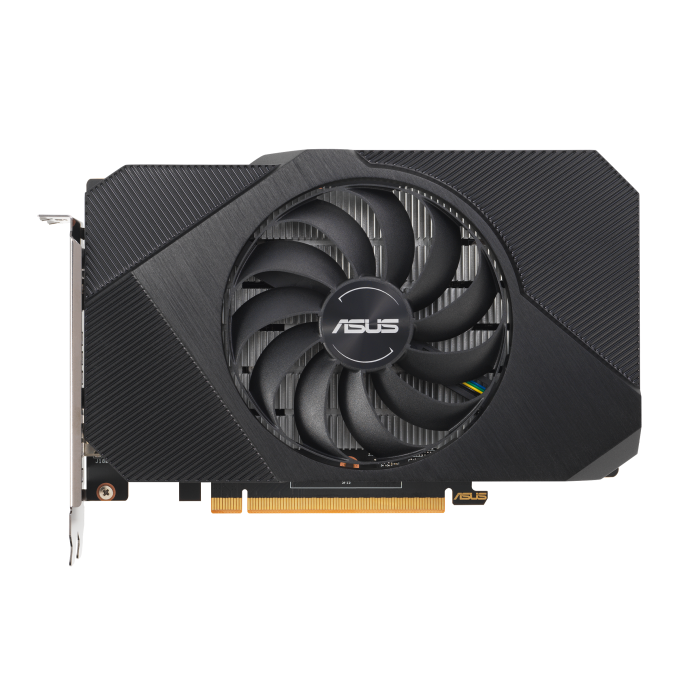 Packs a Punch
The ASUS Phoenix Radeon™ RX 6400 derives its name from a high performance output in a robust package. A large single fan takes advantage of our Axial-tech fan design and a dual-ball bearing fan that lasts twice as long as sleeve-bearing alternatives. To raise the bar, each card is manufactured using our fully-automated Auto-Extreme Technology manufacturing process and put through a 144-hour gaming stress test. If you're looking for a long-lasting companion to power you through years to come, look no further than the ASUS Phoenix.
Axial-tech Fan Design
Better, faster, stronger
A large Axial-tech fan features a smaller hub that facilitates longer blades and a barrier ring to increase downward air pressure.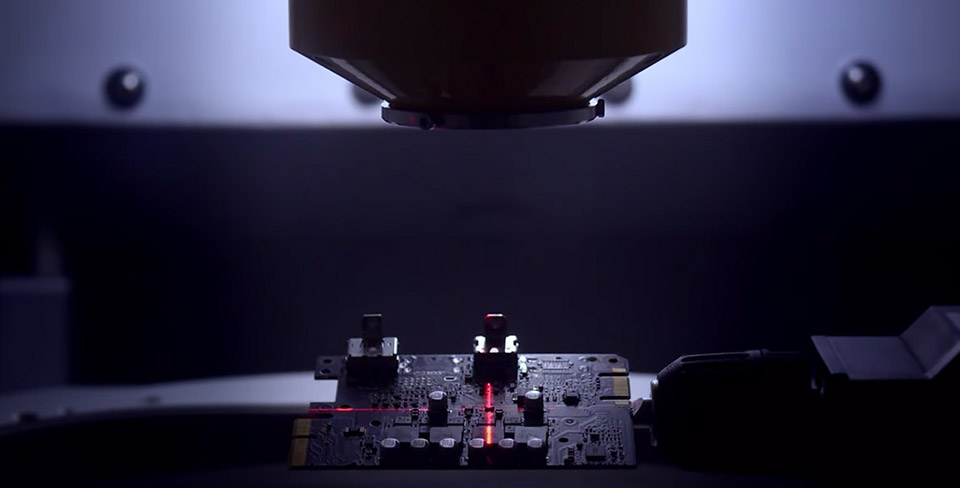 Auto-Extreme Technology
Precision automated manufacturing
Auto-Extreme Technology is an automated manufacturing process that sets new standards in the industry by allowing all soldering to be completed in a single pass. This reduces thermal strain on components and avoids the use of harsh cleaning chemicals, resulting in less environmental impact, lower manufacturing power consumption, and a more reliable product overall.
144-hour
Validation Program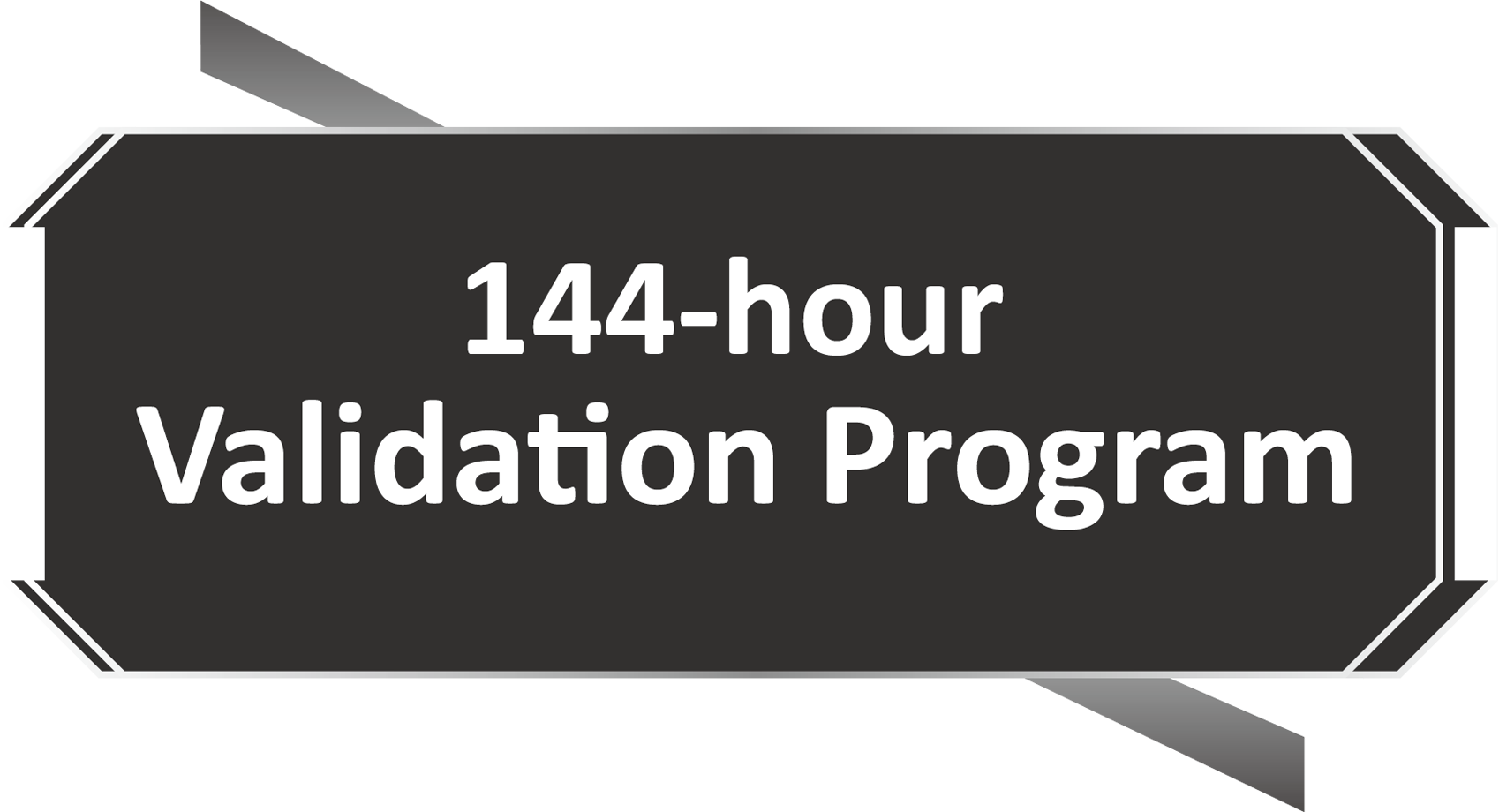 144-hour Validation Program
"Extensive" may be an understatement
Each card must meet rigorous performance and reliability standards before it ships. Performance and stress tests are run with the latest chart-topping titles like Fortnite, League of Legends, Overwatch, and PlayerUnknown's Battlegrounds. We also carry out reliability trials that include a 144-hour stability test and a series of 3DMark benchmarking runs to ensure the card performs well when pushed to the limits.
AMD Radeon™ Software
Change the way you game
The latest Radeon™ Software unleashes the full potential of your GPU with day-0 drivers optimized for new game releases and a highly customizable gaming experience.
Free 1 Month of Adobe Creative Cloud
Get complimentary membership with the purchase of selected ASUS products.*

20+ Adobe apps

Industry-leading apps including Photoshop, Illustrator, InDesign, Spark and XD.

Adobe Fonts

Access thousands of fonts right within your Creative Cloud apps.

Behance

Find inspiration in the world's largest creative community.

Creative Cloud Libraries

Your team can share assets across their apps and devices, so everyone's in sync.

1TB of cloud storage per user

Extra storage makes it easier for your team to share and manage creative assets.
* Terms and conditions apply. For more details, please read the full terms and published on the event page.
Introducing AMD Radeon™ RX 6400 graphics cards, featuring the breakthrough AMD RDNA™ 2 architecture and engineered to deliver great gaming performance with remarkable efficiency. Blaze a trail into tomorrow, dive into 1080P gaming, enjoy vivid virtual worlds, and elevated experiences with the power of next-generation graphics.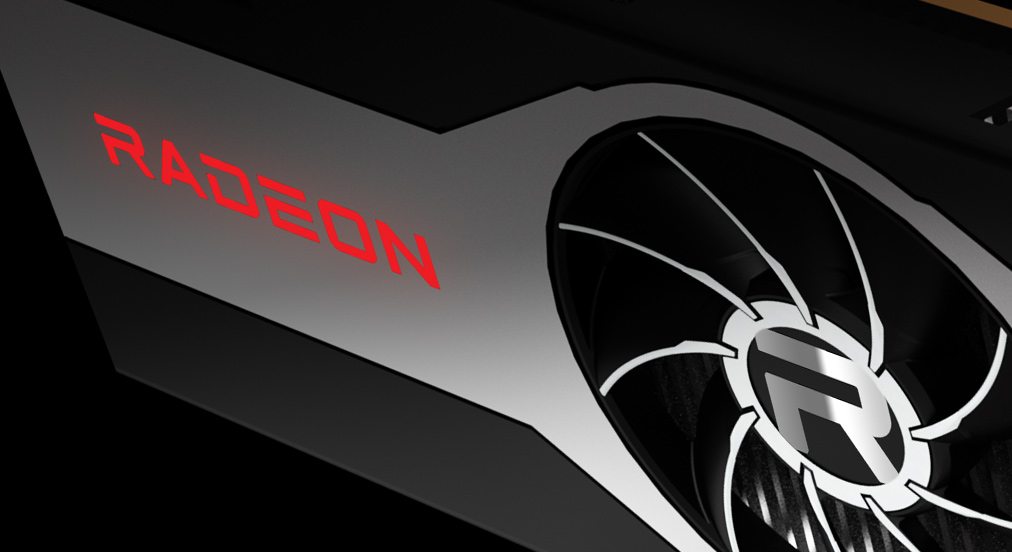 ​Great 1080p Performance
AMD Radeon™ RX 6400 graphics cards deliver serious 1080p gaming and impressive frame rates. The power of AMD RDNA™ 2 architecture is unleashed with up to 12 powerful graphics compute units, coupled with all ultra-high bandwidth AMD Infinity Cache™, and up to 4GB of dedicated GDDR6 memory.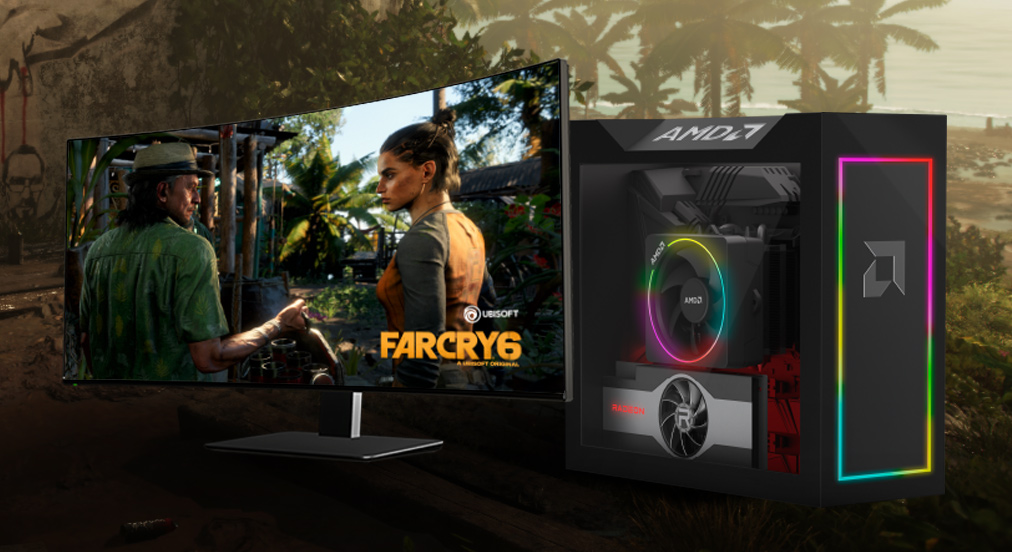 ​Vivid Visuals
With immersive gaming technologies and support for DirectX® 12 Ultimate, AMD Radeon™ RX 6400 graphics cards draw you into the action. Experience gaming with realistic lighting, shadows, and reflections along with rich detail, thanks to DirectX® Raytracing (DXR), variable rate shading (VRS), and AMD FidelityFX™ technology features, optimized for AMD RDNA™ 2 architecture.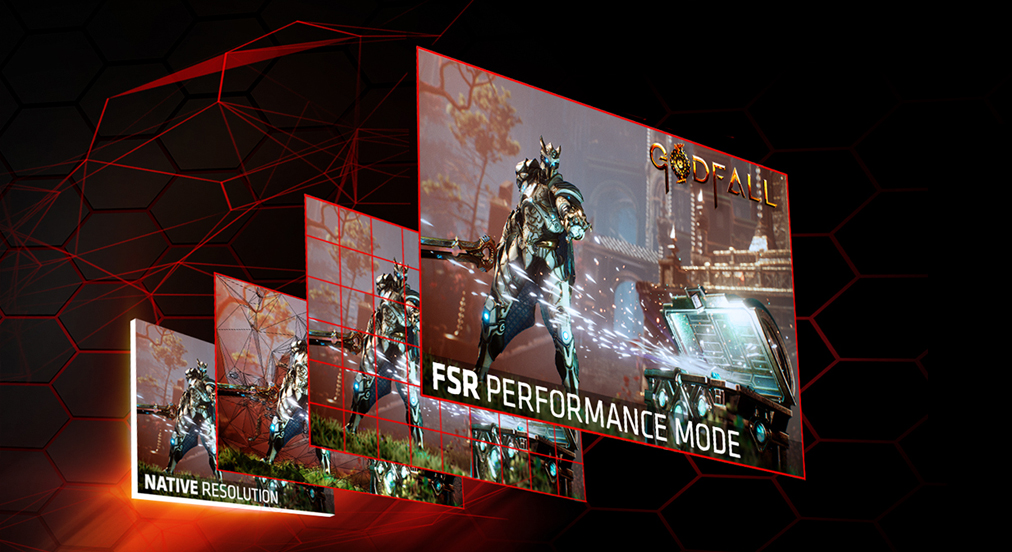 ​Get a Boost in Frames for Your Games
AMD FidelityFX™ Super Resolution (FSR) technology boosts your frame rates by 2.4X on average across select FidelityFX Super Resolution supported games2 with high-quality, high-resolution gaming experiences delivered by AMD Radeon™ RX 6000 Series graphics cards. Optimize your gaming experience between four presets, ranging from best visual fidelity to maximum performance.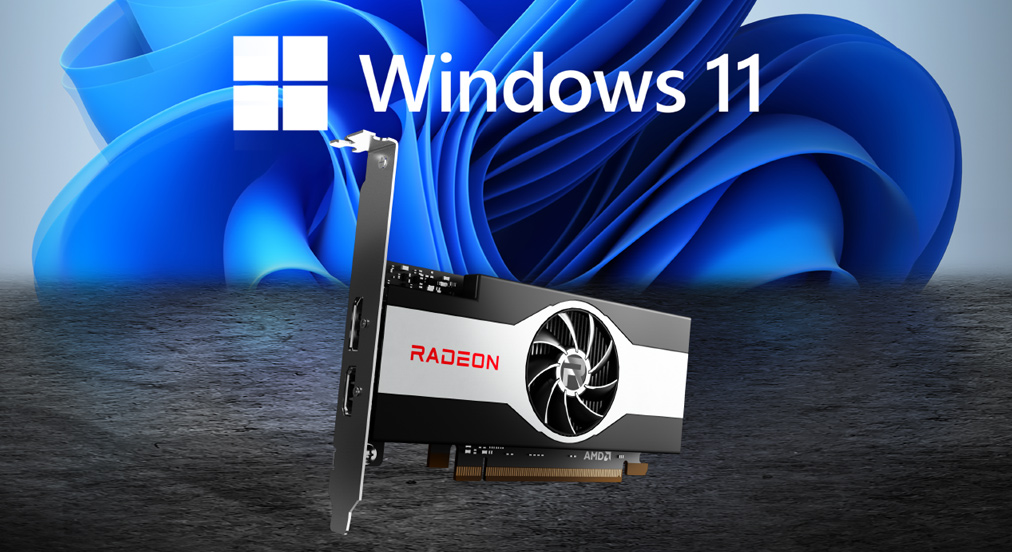 The Best Gaming Experience For The Best Gaming OS
AMD Radeon™ graphics with Windows 11 enables the ultimate gaming experience through superior graphics, amazing performance, and optimized security features. Supercharge your gaming experience on Windows 11—featuring support for DirectX® 12 Ultimate, Auto HDR, AMD Radeon™ graphics, and AMD Software.
AMD FidelityFX Super Resolution is available on select games and requires developer integration. See https://www.amd.com/en/technologies/radeon-software-fidelityfx-super-resolution for a list of supported games. AMD FidelityFX Super Resolution is "game dependent" and is supported on the following AMD products: AMD Radeon™ RX 6000, RX 5000, RX 500, RX Vega Series graphics cards & all AMD Ryzen™ Processors with Radeon™ Graphics, as long as the minimum requirements of the game are met. AMD does not provide technical or warranty support for AMD FidelityFX Super Resolution enablement on other vendor's graphics cards. GD-187.
Testing by AMD Performance Labs as of June 11, 2021, on the AMD Radeon™ 6900 XT, AMD Radeon™ 6800 XT, and AMD Radeon™ 6700 XT graphics cards with pre-release AMD Radeon™ Software 21.6.1 RC Prime 9 (21.20-210518a-367616E) driver with AMD Smart Access Memory enabled, on a test system comprising of an AMD Ryzen™ 9 5900X, 16GB DDR4-3200 RAM, ASRock X570 Taichi motherboard with BIOS version P3.61 at default settings, and Windows® 10 Pro May 2020 Update (19041.508). Benchmark tests: Anno 1800, DX12, 3840 x 2160, Ultra Hight preset, no raytracing. Evil Genius 2, Vulkan, 3840 x 2160, Ultra preset, no raytracing. Godfall, DX12, 3840 x 2160, Epic preset, Raytracing ON. Kingshunt, DX12, 3840 x 2160, Ultra preset, no raytracing. The Riftbreaker, DX12, 3840 x 2160, Ultra preset, Raytracing ON. Terminator: Resistance, DX11, 3840 x 2160, Epic preset, no raytracing. Game 7, DX12, 3840 x 2160, High preset, no raytracing. Performance may vary and is dependent on the FSR Quality Mode selected. FSR requires developer integration and is available in select games only. RS-365.
© 2022 Advanced Micro Devices, Inc. All rights reserved. AMD, the AMD Arrow logo, FidelityFX, FreeSync, Infinity Cache, Radeon, RDNA, Ryzen, and combinations thereof are trademarks of Advanced Micro Devices, Inc. DirectX and Windows are registered trademarks of Microsoft Corporation in the US and/or other countries. Other product names used herein are for identification purposes only and may be trademarks of their respective companies.
GODFALL™ Published and distributed by Gearbox Publishing. Gearbox and the Gearbox Software logo are registered trademarks, and the Gearbox Publishing logo is a trademark, of Gearbox Enterprises, LLC. ©2022 Counterplay Games Inc. All rights reserved.
© 2022 BETHESDA SOFTWORKS LLC, A ZENIMAX MEDIA COMPANY. DEATHLOOP™ DEVELOPED BY ARKANE STUDIOS, A ZENIMAX MEDIA COMPANY. DEATHLOOP, ARKANE, ZENIMAX, BETHESDA, AND BETHESDA SOFTWORKS AND RELATED LOGOS ARE REGISTERED TRADEMARKS OR TRADEMARKS OF ZENIMAX MEDIA
our face bookhttps://www.facebook.com/ElnourTechQena